Can You Handle It? Tours

The real flavor of a city is in the details, and Can You Handle It? Tours (CYHIT) provide all the details to help visitors experience a city! Our free and paid events help visitors make the most of their time with fun, informative, and interactive events. We love to educate guests in an untraditional, yet fun way, so don't expect an ordinary, umbrella- holding walking tour, no way!
We're out to make your tour as memorable as possible, and of course they're fully loaded with information, so you'll walk away full of interesting facts and great memories about the city! Our pub crawls and beer tasting events are also great for meeting people and tasting the best of the best in each city!
Find CYHIT walking tours, pub crawls, and beer tastings in Bruges, Belgium (Brugge), Ghent, Belgium (Gent) and Cologne, Germany (Köln).

Our Tours
silent.seeing tours wireless headphone tours putting sightseeing to a new level. Compared to classic walking tours, you can enjoy more freedom and mobility while music and proper sound effects bring stories to life. It is not a do-it-yourself app guiding you, it is a real charismatic and well educated offline guide with microphone. Feel free to stop for pictures, never mind, the guide is always in your ear. You will be equipped with modern and comfortable headphones - including volume control. This is a non-traditional new age walking tour with a vibrant and enthusiastic guide. We love showing you the new and urban sections along side the ancient areas of all cities we represent. On top of it all, we will provide you with some delicious insider tips. silent.seeing offers you an interactive history class with naturally, fun and excitement. (If you want to learn pure history facts, this might not be your cup of tea) The duration will be approximately 2,5 hours including a short break in the middle. Would you like to have a taste test first? Check out the appetizers of photos at our website or discover our social media channels. CLICK HERE!
From EUR 0
5 shots and 2 beers should get your night started off just about right. Tour the town with some new friends Enjoy this picturesque city's landscape as you sit for another beer paired perfectly with just the right cheese - a local custom you'll come to love! *CHECK OUT OUR silent.seeing WALKING TOURS* Get %50 off when clicking here and write discount code: ALMOSTFREE Check your confirmation for meetup spot Charlie Rocketrs hostel: Hoogstraat 19, 8000 Brugge, Belgium
From EUR 15
Receive a selection of fine Belgian beers. Gain some useful knowledge and many cool stories about how these tasty Belgian beers were created. The beer tasting consists of having 5 different Belgian beers (1/3 of each beer), then having the 6th full beer of their choice, any on the list. Depending on the day and location you participate in, you will get to try all different styles of Belgian beers. You will never do 2 of the same tastings in a row! Enjoy an hour and a half of entertainment, knowledge and great social atmosphere, so get ready for a memorable night out in Bruges! *CHECK OUT OUR silent.seeing WALKING TOURS* Get %50 off when clicking here and write discount code: ALMOSTFREE Check your confirmation for meetup spot Lybeer Hostel - Korte Vuldersstraat 31, 8000 Brugge, Belgium Snuffel Hostel - Ezelstraat 42, 8000 Brugge, Belgium
From EUR 12
Discovering the city of Bruges with fun guides, movie facts and great company. What's the difference to standard "umbrella"-tours? All of our tours have stops for drinks, free Belgian treats and suggestions of places to go eat and/or visit. Have an amazing, informative and immensely entertaining free tour - 21st-century style! In Brugge Movie Facts Free chocolate tastings and cheap beer Well-rounded view of the city pointing out of favorite waffle and pomme frittes stands along the way! *CHECK OUT OUR silent.seeing WALKING TOURS* Get %50 off when clicking here and write discount code: ALMOSTFREE Check your confirmation for meetup spot On the Market Square - Markt, 8000 Brugge, Belgium (look for our sign)
From EUR 0
Learn the meaning behind 4711. Why do they call Cologne, Cologne? How is that DOM doing? Karnival and why it is so great! Find out where to hang out after the tour Visit the cities busiest areas that make the city what it is you see today. *CHECK OUT OUR silent.seeing WALKING TOURS* Get %50 off when clicking here and write discount code: ALMOSTFREE Meeting Point: McDonald's Restaurant, Rudolfplatz 8
From EUR 0
Come see Gent the fun way on our 2-hour Free Walking Tour! We'll show you the all the key places in town, the best bars, the cheapest food, and you might even learn something too. Perfect for a traveler like you! Regular tours are available but reservations are required! Click the Book Now button to hold your spot! For private tours, please email kais.tours@gmail.com to make arrangements. ​ *CHECK OUT OUR silent.seeing WALKING TOURS* Get %50 off when clicking here and write discount code: ALMOSTFREE Meeting Point: In front of Gravensteen Castle
From EUR 5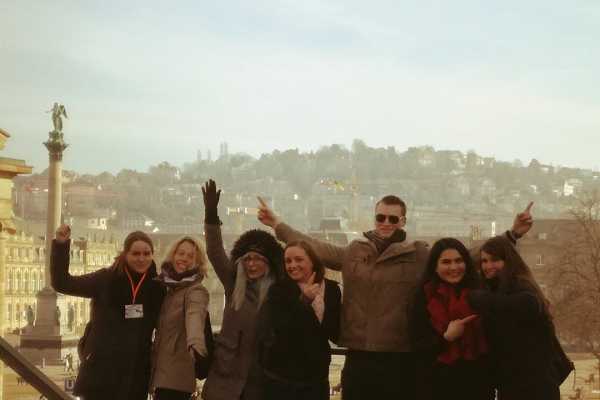 Discovering the city of Stuttgart with fun guides, and great company. What's the difference to standard "umbrella"-tours? All of our tours have stops for drinks, treats and suggestions of places to go eat and/or visit. Have an amazing, informative and immensely entertaining free tour - 21st-century style! If you are a movie buff, do not miss out on the yearly festival of animated film. *CHECK OUT OUR silent.seeing WALKING TOURS* Get %50 off when clicking here and write discount code: ALMOSTFREE
From EUR 0
Get Social
Look Who We Work With